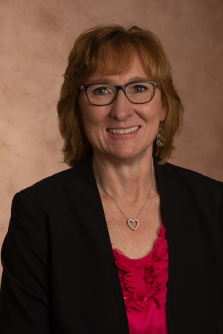 Welcome from the Program Director
Welcome to the Internal Medicine Residency Program. We strive to foster the necessary allopathic and osteopathic environments for our residents to develop successful medical practices, enter subspecialty fellowships, and pass board exams. Together, our faculty members are committed to medical education and enthusiastically nurture the joy of patient care. The curriculum provides opportunities to practice all facets of internal medicine in both inpatient and outpatient settings.
We take pride in offering the necessary education, training, and clinical experiences for our residents to reach their personal career goals. Our three-year program offers: 
Full-time, board-certified faculty members.
Individualized rotations to fit your career goals.
International health/tropical medicine electives.
Thorough preparation for board certification (100% pass rate on Internal Medicine boards for the past nine years).
Low resident-to-faculty ratio.
A diverse patient population of more than 1.5 million.
Direct responsibility for patient management.
Research opportunities.
A personal faculty mentor.
Chief resident opportunities.
Successful placement rate in subspecialty fellowships.
A competitive benefit and stipend package.
Point of Care Ultrasound (POCUS) and Simulation Days throughout the year.

Ross Driscoll, MD
Associate Program Director
During the first eight weeks of residency, our first-year Internal Medicine and Med-Peds residents participate in Foundations of Clinical Medicine. The workshops, which began at the medical school in the summer of 2015, give new interns the chance to develop and hone the basic diagnostic and procedural skills they will use during residency. Faculty and senior residents from Internal Medicine and Medicine-Pediatrics, as well as community physicians, assist in teaching the workshops.
Our region – Southwest Michigan – boasts a varied and challenging patient population of more than 1.5 million with a broad range of pathology. We teach our residents to be compassionate and caring, as well as smart and clinically astute. Together, we stress patient-based education, from daily morning conferences to bedside teaching.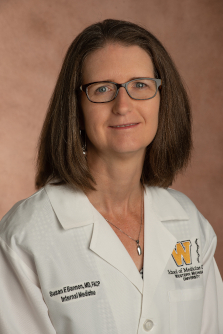 We promote lifelong learning by emphasizing the challenge and the fun of learning. Our program provides MKSAP free for all residents. After completing their first year of training, our residents are eligible to participate in a developing country/international medicine elective that focuses on poverty-related and tropical diseases. It offers residents a rare opportunity to experience medical care in a cross-cultural environment.
Additionally, in 2015, WMed received osteopathic recognition as part of the inaugural class of ACGME residency programs. Residents, both DO and MD, may choose this optional track. Together, we take pride in continuing a tradition that has been in place since 2004 when we first started osteopathic training in Kalamazoo, which allows osteopathic and allopathic graduates to participate in learning about osteopathic principles through monthly didactics, OMT Clinic time and hands-on instruction in the principles of manual medicine.
Take a look below to see why our residents love being a part of our program and the Kalamazoo community.
Links
Accreditation and Licensing
Journals and Resources