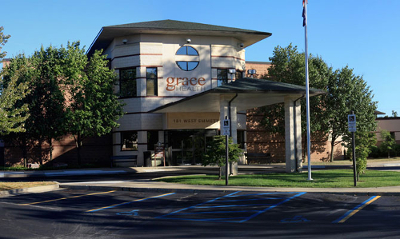 WMed, Bronson Battle Creek Hospital and Grace Health are partners in the new Family Medicine Residency Program in Battle Creek. The collaboration strengthens the shared commitment to provide health care to the underserved people in our community by providing quality comprehensive care for all ages, including:
Promotion of wellness and preventive care for adults, elders and children
Diagnosis and management of chronic illness (diabetes, high blood pressure obesity, etc.)
Diagnosis and management of acute illness (cold, flu, injuries, rashes, etc.)
Our diverse services include obstetrical care, inpatient care, same-day access, home visits, physical therapy, optometry, behavioral health, dental care, nutrition education and pharmacy
Coordination of needed specialty care in the community
Patient education to answer your health care questions
Through our residency program, WMed residents and students working at Grace Health and Bronson Battle Creek receive training that includes enhanced access to social and population health concerns. Grace Health is a Federally Qualified Health Center (FQHC) and also recognized nationally as a Patient Centered Medical Home (PCMH). Our residency program is housed at Grace Health in Neighborhood C at 181 W. Emmett St. in Battle Creek, which is just blocks from Bronson Battle Creek, our primary site for inpatient care.
Our Providers
Resident Physicians