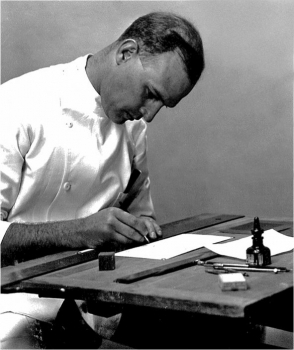 Dr. Homer Stryker was an orthopaedic surgeon, inventor, and businessman, best known for his inventions that revolutionized orthopedic care, bringing comfort to patients and convenience to doctors and hospital staff. He founded the Orthopedic Frame Company, which eventually became one of the world's leading medical technology companies, currently known as Stryker.
Dr. Stryker's best-known inventions include the Wedge Turning Frame, the Circ-O-Lectric Bed, the Walking Heel and the Cast Cutter. The Wedge Turning Frame was an important medical breakthrough used to treat patients who were immobilized during extended hospital stays and often developed blood clots and skin problems. It allowed medical personnel to quickly and easily turn their patients to help prevent some of those complications. The 1937 Wedge Turning Frame invention was the basis for Dr. Stryker's masterpiece developed in the 1950s, the Circ-O-Lectric Bed.
The Walking Heel for walking casts was made of rubber, thus much lighter than the cast iron heels of the time, so the patient's mobility was better. The Cast Cutter was designed to alleviate the cumbersome task of removing a cast. It used an oscillating saw to cut through the hard material of a cast but did not cut soft tissue or injure the patient's skin in the process. The evolution of these products is a testimony to Dr. Stryker's approach to innovation — after he invented a product, he would continue to improve it.
Homer Hartman Stryker was born in Wakeshma Township on November 4, 1894, and graduated from Athens High School in Athens, Michigan, in 1913. He attended Western State Normal College (now Western Michigan University), graduating in 1916. After teaching in a one-room schoolhouse in the Keweenaw Bay school system in the Upper Peninsula, he enlisted in the U. S. Army and served in France during World War I.
When Homer returned to the U.S., he realized that although he loved the teaching profession, he also had a strong desire to work with his hands. He talked with a family friend who was a practicing physician in Kalamazoo. This man quickly realized that the bright, eager young Homer would be a good fit as a medical student. With his recommendation, Homer was accepted into the University of Michigan medical school in 1919. However, he was required to pass a foreign language exam before beginning medical school, and he was not fluent enough in any foreign language to pass. Homer connected with Mary Jane Underwood, also an Athens High School graduate. Valedictorian of her class and the high school's first female graduate to attend college, she taught German and French in Belding, Michigan, after graduating from Northwestern University in 1916. She tutored Homer, and he quickly picked up enough French to pass the medical school entrance exam.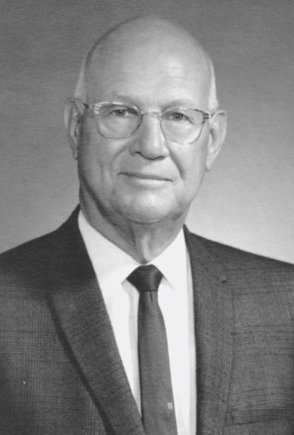 Homer needed additional money to attend medical school, so he taught school in Grand Ledge, Michigan, coached football, basketball and baseball, worked as a barber, and pitched for the Grand Ledge semi-professional baseball team. With the funds saved from two years of work, Homer entered medical school at the University of Michigan in 1921. In addition to his studies, Homer was the starting pitcher for the University of Michigan baseball team, leading them to a Big Ten Conference title.
Homer married Underwood, his former tutor, in 1924 in Marshall, Michigan. In 1925, Homer graduated from the University of Michigan medical school and then interned at University Hospital in Ann Arbor for three years. After moving to Alma, Michigan, and working briefly at a small private hospital, he and his wife moved to Kalamazoo in 1928. He opened a general practice on the second floor of the State Theater building in downtown Kalamazoo. Dr. Stryker served as the Kalamazoo County physician in 1929 and 1930 and practiced general medicine until 1936, when he returned to University Hospital in Ann Arbor to do a residency in orthopaedic surgery. During his residency, he began working on ways to improve traditional procedures for moving immobile patients and for making patients more comfortable. Upon completion of the program in 1939, he and his wife returned to Kalamazoo.
Dr. Stryker went to work at Borgess Hospital as the only certified orthopaedic surgeon in the region. He had an office on the second floor and a workshop in the basement. It was in this workshop that he began to manufacture and sell some of his inventions. During World War II, his Wedge Turning Frame was sought after by the U.S. Army, so orders increased. Dr. Stryker hired two part-time workers and began producing Wedge Turning Frames and Walking Heels. His wife Mary Jane sewed canvas strings for the turning frames.
For a time during World War II, Dr. Stryker turned to the Kalamazoo Toy and Sled Company for help in manufacturing his frames. The company had been virtually shut down because of a lack of raw materials during the war, so they agreed to manufacture Dr. Stryker's frames. In 1941, Dr. Stryker formed the Orthopedic Frame Company, incorporating it in 1946. By 1949, he had moved the company's headquarters to Alcott Street in Kalamazoo. The company's goal continued to be helping patients lead healthier, more active lives through products and services that made surgery and recovery simpler, faster and more effective.
During the 1950s, Dr. Stryker worked on what was arguably his most famous invention — the Circ-O-Lectric Hospital Bed. An electric motor turned a bed, suspended between two wheels, to a vertical or horizontal position, as well as many positions in between. The device could be operated by the patient or a nurse. Like the Wedge Turning Frame, this reduced the amount of time and effort required by staff to physically move patients. Patients liked the bed because it was more comfortable, and they could operate it themselves.
In 1955, Dr. Stryker's son Lee joined the company as general manager and, in 1958, sales hit $1 million. In 1964, Dr. Stryker retired from his medical practice and changed the name of the company to Stryker Corporation. In 1969, Lee became president and chief operating officer. He served in that position until 1976, when he died in a plane crash while on vacation in Wyoming. Lee had helped boost the company to 280 employees and nearly $10 million in sales by the time of his death. In 1977, John W. Brown was named president and CEO. Under Brown's leadership, revenue grew to almost $4.3 billion in 2004, the company became a member of the Fortune 500, and Stryker received multiple accolades as one of the best-performing medical technology companies.
Dr. Stryker died on May 5, 1980, at Borgess Hospital in Kalamazoo. He was 85 years old. Dr. Stryker received many honors and awards for his contributions to orthopaedic medicine. In 1968, he was awarded the Presidential Citation for Meritorious Service from the President's Commission on Employment of the Handicapped. In 1970, he was honored with the Distinguished Alumni Award from the Western Michigan University Alumni Association. Borgess Hospital named its new orthopaedic department after him in 1972. Three years later, Borgess named its renovated nursing school building the Stryker Center. The Center was renovated again in 2005 and is now a 140,000-square-foot outpatient center. In 1978, he was given the "Service to Mankind Award" by the Kalamazoo Sertoma Club.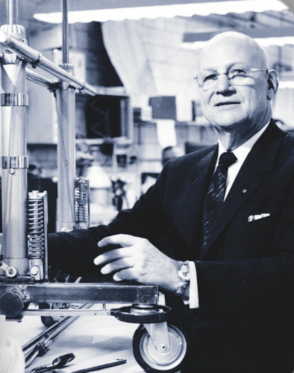 Today, Stryker is one of the world's leading medical technology companies and its headquarters remain in Kalamazoo. In 2021, the company reported $17.1 billion in sales and 46,000 employees around the world. Stryker is currently ranked #214 on the Fortune 500 list and offers innovative products and services in Medical and Surgical, Neurotechnology, Orthopaedics and Spine that help improve patient and healthcare outcomes. Alongside its customers around the world, Stryker impacts more than 100 million patients annually.
Dr. Stryker Address to the Sandusky Area Chamber of Commerce
On May 11, 1963, Dr. Stryker delivered a lecture to the Sandusky Area Chamber of Commerce titled "So You Want to Go Into Business?" To listen to the 51-minute address, click the play button on the right beneath the photo of Dr. Stryker.
"It's a poor workman that blames his tools. If they don't work, make them work. If you can't make them work, make some that do work." — Dr. Homer H. Stryker