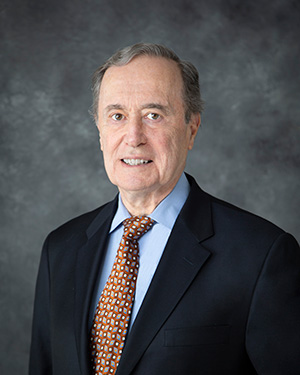 The medical school will welcome Nicholas Chiorazzi, MD, in December as the featured speaker for Seminars in Investigative Medicine.
Dr. Chiorazzi's presentation, "Intraclonal heterogeneity based on time since CLL cell birth/division ("age"): Unique biologic features and therapeutic possibilities," is scheduled for noon to 1 p.m. on Wednesday, December 13, 2023, at the W.E. Upjohn M.D. Campus in downtown Kalamazoo. 
The event is free and CE and MEDU credit is available. For more information about CE credit, please go to https://bit.ly/3FU0D8K. If you plan to attend, please register here.
Dr. Chiorazzi serves as the Kanti R. Rai Professor of Oncology Research at the Institute of Molecular Medicine at Feinstein Institutes for Medical Research. He is also Professor of Medicine and Molecular Medicine at the Donald and Barbara Zucker School of Medicine at Hofstra/Northwell.
Dr. Chiorazzi received his medical degree from Georgetown University and completed his internal medicine training and rheumatology and allergy-clinical immunology training in the Cornell Cooperating Hospitals. He was also an immunology research fellow at Harvard Medical School in the Department of Pathology.
Dr. Chiorazzi has been elected to the American Society of Clinical Investigation and the Association of American Physicians and received the Binet-Rai Medal for Excellence in Chronic Lymphocytic Leukemia Research. Dr. Chiorazzi's lab at the Feinstein Institutes for Medical Research studies the activation and maturation of B-lymphocytes in health and disease, in particular chronic lymphocytic leukemia (CLL).
Seminars in Investigative Medicine is a research seminar series at WMed aimed at bringing together the community of investigators both within – and outside — the medical school.