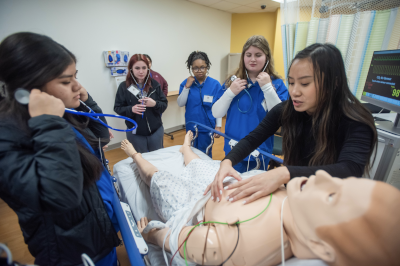 The Early Introduction to Health Careers pathway programs (EIH) at WMed are a multi-pronged initiative to empower underrepresented elementary, middle and high school students in Southwest Michigan and fuel their dreams of future careers in the biomedical science and healthcare fields. Preference is given to underrepresented-in-medicine minorities, as well as students who are low income and/or first-generation college attendees. 
Our programs are designed to enhance students' self-efficacy for future success in high school and higher education attainment by improving problem-solving and critical-thinking skills. Moreover, the students' improved knowledge about health, the social determinants of health and active citizenship through service learning with local organizations serves as a vehicle to reduce health disparities in our communities.
The EIH programs immerse students in a team-based learning environment to spur their knowledge about science through a healthcare lens. Students engage in hands-on, team-based lessons, activities, simulations, mentoring and research facilitated by WMed students and faculty.
EIH, which launched at WMed in 2014, is made possible through partnerships with Kalamazoo College, Kalamazoo Valley Community College and Western Michigan University, and is supported by grants from the United Way of the Battle Creek and Kalamazoo Region, and the Harold and Grace Upjohn, Dorothy U. Dalton and Irving S. Gilmore foundations. The EIH program was created - and is currently led  - by Dr. Cheryl Dickson, the medical school's associate dean for Health Equity and Community Affairs. 
EIH Programs
EIH 2

The EIH 2 pathway program is open to Kalamazoo Public Schools students who have completed the ninth, 10th, 11th, and 12th grade, and have an interest in science.

Since 2014, more than 100 students from Kalamazoo Central, Loy Norrix, and Phoenix high schools in Kalamazoo have graduated from the EIH 2 program at WMed. The longitudinal initiative is WMed's flagship program and is comprised of monthly Saturday Science academies held from October to May.

EIH 2 focuses on health sciences, math, and development of critical thinking and problem solving for 10th, 11th, and 12th grade students. The curriculum for the weekend science academies includes intentional, guided research, individual mentoring sessions, clinical and non-clinical speakers.

The EIH 2 pathway program:

Improves education for youth through educational enrichment and exposure to health careers.
Decreases current STEM educational gaps for underrepresented students in the community.
Over time, improves health disparities through education and leadership development that impacts the social determinants of health by affecting change.
Is vital to the growth of well-trained, diverse health professionals who can serve the increasing health care needs of the population.


The curriculum for the weekend science academies includes: 

Presentations from health care professionals
The study of body systems through Team Based Learning
Application of clinical skills in our state-of-the-art Simulation Center
Individual mentoring sessions 
Development of research and presentation skills


At the conclusion of the program, 24 students are chosen to participate in an intensive two-week summer camp that is conducted in partnership with Kalamazoo College. Students accepted into the summer program spend the first week conducting biochemistry research with Kalamazoo College faculty, and explore anatomy and physiology with WMed faculty and staff during the second week.

The program is designed to provide health career exposure while teaching science through a health care lens. Students engage in hands-on, team based learning lessons, activities, simulations, mentoring and research facilitated by WMed students and faculty. The program hopes to also enhance students' self-efficacy for future success in high school and higher education attainment by improving problem-solving and critical-thinking skills. 

Eligibility

The EIH 2 pathway program is open to 10th, 11th, and 12th grade students in Kalamazoo County. Preference is given to underrepresented-in-medicine minorities, as well as students who are low income and/or first-generation college attendees.

EIH 1.5

In 2017, WMed launched EIH 1.5, a health career pathways program for middle school students in Calhoun County.  

The EIH 1.5 pathway program:

Improves student self-efficacy and develops intrinsic motivation to create and execute post-secondary education/career goals. 
Improves science and math skills through engaging, hands-on STEM instruction.
Increases awareness of available health care and STEM careers.
Increases student leadership capacity through team building, mentoring, goal setting, public speaking and fine tuning soft skills.


The overarching goals of the program are to see the following long-term outcomes:

Increase in college and credential completion rates.
Increase in the number of underrepresented in medicine (URM) minority students entering health care professions.
Reduction of community health disparities by having a diverse biomedical workforce.


Please direct any questions regarding the pathway programs to Candace Moore, manager for Health Equity and Pathway Programs, at candace.moore@wmed.edu, or Dr. Cheryl Dickson, EIH Program Director and Associate Dean for Health Equity and Community Affairs at cheryl.dickson@wmed.edu.

EIH 1

The EIH 1 pathway program for 4th and 5th graders is conducted through a partnership with Northeastern Elementary in the Kalamazoo Public Schools district.  The objective of EIH 1 is to provide a novel program to facilitate academic success in math and science for underrepresented students at an early age.  The program aims to foster an interest in science and math, as well as improve proficiency in problem solving and critical thinking skills.

The first phase of this program begins in the fall of students' fourth grade year. A cohort of medical students facilitate lessons and activities once a month. The curriculum, which is aligned with Michigan/Next Generation Science Standards, is designed to expose elementary students to careers in health while providing inquiry-based opportunities for the students to learn science through a health care lens. In the first part of this program, all fourth-grade students learn about the skeletal, muscular, respiratory, and circulatory systems.  The students also take a field trip to the medical school, where they have the opportunity to engage with faculty and participate in activities in the state-of-the-art Simulation Center.  

The second phase of EIH 1 takes place during students' fifth-grade year. The students more deeply explore body systems and continue the mentoring relationship with medical students, who work with the same group of 4-5 students throughout their fourth- and fifth-grade year.  The fifth grade students also research a health science topic and present a poster of their findings to share with their peers, teachers, and families.  

The EIH 1 pathway program:

Improves success in fostering higher education goals for participants
Improves skills in science and math acquisition through enhancement of critical-thinking and problem solving abilities
Exposes participants to health career opportunities
Promotes team-building skills and positive peer group formation across schools
Increases awareness of health disparities and prevention


Throughout 4th and 5th grade, the students' monthly learning topics will include:

What is Health Science?
The Skeletal System
The Muscular System
The Respiratory System
The Circulatory System
The Nervous System
The Immune System
Nutrition and Exercise
First Aid
Dental Health
Evaluating Evidence