WMed students planning 300-mile bike ride across Michigan to raise money for the West Michigan Cancer Center
After they arrived at WMed in 2020, a mutual passion for biking helped John Bradtke, James Burton, and Victor Hung form a quick bond and friendship as they began taking on the rigors of medical school as first-year students.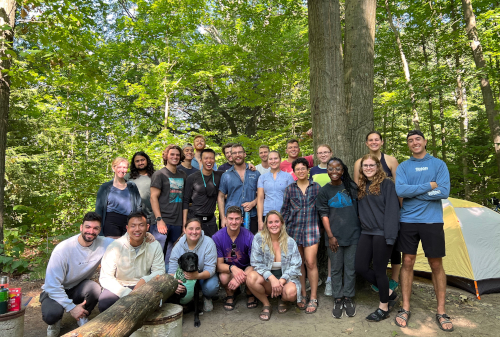 They spent weekends together on their bikes and planned rides for after class. They formed a cycling interest group and for the last two years they've coordinated an annual bike ride on the Kal-Haven Trail and overnight camping trip at the Kal-Haven Outpost in South Haven. The latest trip this past fall attracted 30 people.
"It's really about getting outside and doing something that keeps us healthy and brings us together," Bradtke said.
Now, as third-year students at the medical school, the three friends want to use their love of cycling to benefit the community and a worthy cause. This May, Bradtke, Burton, and Hung plan to take part in what they've named "Coast to Coast for Cancer" and pedal more than 300 miles from Port Huron to South Haven to raise $5,000 or more for the West Michigan Cancer Center.
During the east-west trip across the Lower Peninsula, which is scheduled for May 4-7, they'll touch three of the Great Lakes – Huron, Erie, and Michigan, respectively.
"For us, it's something where the money we hope to raise can make a huge difference in the lives of patients at the cancer center and we want to support those patients in any way possible," Bradtke said.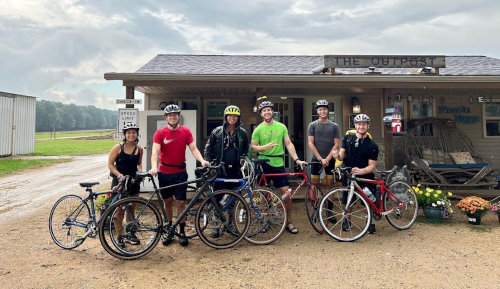 Both Bradtke and Hung have personally witnessed the impact a cancer diagnosis can have on person and their family with Bradtke's grandfather and Hung's father both having battled prostate cancer. Bradtke's grandmother also battled lymphoma. Those experiences fueled their desire to put together a fundraiser for the cancer center.
Bradtke, Burton, and Hung said they've also each been inspired during their clinical rotations at the West Michigan Cancer Center by Drs. Anna Hoekstra, Laurence McCahill, and Gitonga Munene.
"They work with a lot of complex cases and they just do amazing work supporting patients," Burton said. "They're really inspirational surgeons and it's a privilege to be able to work with them and also find another way through our fundraiser to support the patients they help."
When it came time to put a plan for the benefit ride into action, Bradtke and Hung, along with Burton, turned to fellow M3 Kira Couch to figure out the coordination and logistics of such a venture. She was happy to support the effort.
 

Couch, a native of Lisle, Illinois, lost her best friend to cancer while in high school and later became a junior board member of the Swifty Foundation, which was launched by her best friend before his death at the age of 15. In that role, Couch took part in fundraisers, at one point shaving her head along with her best friend's sister to raise money for the foundation. While in college at IUPUI, she was also heavily involved with Dance Marathon, an effort that raises money for Riley Hospital for Children in Indianapolis.
"It's really nice that I can do this with three of my close friends," Couch said. "I have zero interest in cycling but I am just really glad that they wanted to have this huge undertaking for such a great cause and that I can be a part of it."
The students have set up a GoFundMe page where visitors to the site can donate and show their support for the upcoming charity bike ride.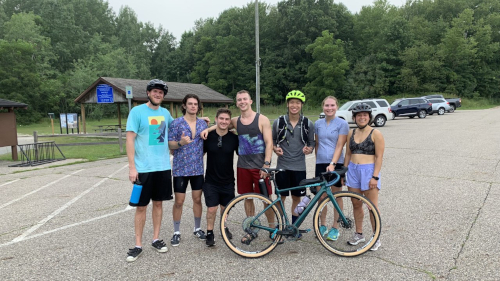 Burton said he and his classmates have their trip mapped out already. They plan to take a train from Kalamazoo to Port Huron on May 3 and will begin their trek the following morning, traveling from Port Huron toward Lake Erie. The second day they'll ride to a stopping point in central Michigan and head from there on day three toward Kalamazoo. By the fourth day, they plan to make the final leg of the trip and finish at South Beach in South Haven.
So far, Bradtke, Burton, and Hung are the only riders who have committed to making the 300-mile bike trek across the state. However, anyone interested in joining them can send an email to Bradtke, Burton, Hung, or Couch.
For those who aren't interested in making the entire trip, there will be an option to meet up with the trio at the Kal-Haven trailhead on 10th Street in Oshtemo Township on the afternoon of May 7 to take part in the final leg of the ride to South Haven. Couch said the group is also working on an event at South Beach to cheer the riders as they finish on May 7 and take part in a celebration.
For now, Bradtke, Burton, and Hung are focused on their preparation for the ride. They've each done long rides before, ranging from 80 to 100 miles, but not four days in a row. They each said they're spending time now indoors staying fit on their bike trainers. Once the snow melts though, Burton said he and his friends will start logging miles outdoors.
"I'm really looking forward to being on the bike in the sunshine this spring with my best buds and seeing parts of the state I've never been to," Burton said.
Said Bradtke: "I'm really excited for that last day of the ride. It's going to be amazing and I'm excited to meet up with members of the cycling interest group, community members, and other classmates and do that last leg of the journey together."
As he looks ahead to May, Hung said he is excited to see how it all turns out and he's hopeful that the fundraiser for the West Michigan Cancer Center will meet or exceed the $5,000 goal.
"We want to have a positive impact on our community and raise awareness about the impact of cancer," Hung said. "We're going to have an adventure and it will be a great feeling to cross that finish line."