Global surgery elective in Liberia life changing and eye opening for WMed resident physician
When she decided to participate in a four-week international health elective that took her to West Africa, WMed General Surgery resident Raisa Gao, DO, hoped the experience would give her a global perspective of medicine and the ability to help patients with the skills she has learned through medical school and residency.  
Nearly a month in Monrovia, Liberia, provided those things and so much more, Dr. Gao said recently.
The experience was life-changing and "like nothing I have experienced before," the third-year resident said.  
Dr. Gao traveled to the West African country in November 2022 with Marc Downing, MD, a clinical assistant professor in the medical school's Departments of Surgery and Pediatric and Adolescent Medicine, and a pediatric surgeon at Bronson Healthcare. The rotation, now in its third year after being paused for two years due to the COVID-19 pandemic, allows a general surgery resident to perform surgeries in the country with Dr. Downing, who has an established relationship with medical providers there.  
"This isn't something that you can read in a textbook," Dr. Gao said. "This is something you have to go and do. I knew I would gain a new perspective, but it was so much more and I'm going to be able to hold this for the rest of my life."  
In their third through fifth years at WMed, General Surgery residents can choose to go abroad on an elective rotation. This year, Dr. Gao went for a full block – 28 days – which means she can use that time toward her minimum of 850 major operative procedures over the five years of residency as required by the Accreditation Council for Graduate Medical Education and the American Board of Surgery toward her residency completion. On average, WMed General Surgery residents perform 1,300 surgeries by the time they graduate residency. While Liberia isn't a new global surgery elective for WMed general surgery residents, Dr. Gao is the first WMed resident to have stayed in the country for a full block, and she is the first WMed resident to get credit for the trip as a global elective.  
"What was different about this trip was it gave us a more in-depth understanding of the hospital environment and the cultural impact on medical care, and more longitudinal view of our patients," Dr. Downing said.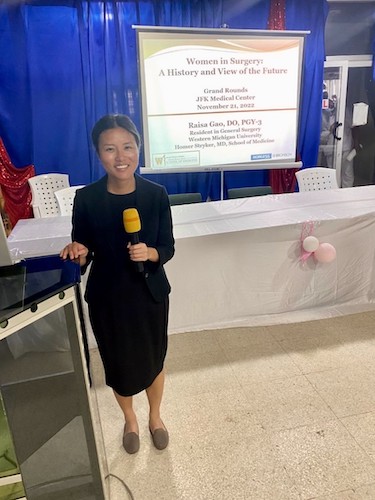 Liberia, a historically stable and wealthy country, was decimated by a civil war that ended in 2003. The social and economic collapse resulting from the civil war have plunged the country into being one of the poorest countries in the world. Bronson Methodist Hospital provided charity care to Isaac Kolleh, a Liberian toddler with imperforate anus, in 2008. Dr. Downing performed a follow-up procedure on Isaac in 2019. The physician performed charity care surgery on a second Liberian infant, Blessing Brown, around the same time. Dr. Downing and his daughter traveled back to Liberia with Blessing, making connections at JFK Memorial Medical Center in Monrovia, which had restarted a surgical training program in 2012 to train Liberian physicians.  
In 2018, Dr. Robert Sawyer, chairman of the medical school's Department of Surgery, asked Dr. Downing to develop a global surgical experience with WMed's General Surgery residents. JFK Memorial Medical Center was an obvious partner based on Bronson and Dr. Downing's established relationships with Liberians, demonstrable medical need, and shared English language.  
Dr. Downing took a senior resident to Liberia for the first time in 2019 to evaluate whether it would be an option. He returned with a resident in February 2020, but the COVID-19 pandemic prevented them from further trips until this past November. Each trip costs about $10,000 in travel costs, visas and food. A dedicated fund at WMed pays for the surgical resident's expenses.  
Each trip includes educational trainings for Liberian physicians, residents, medical students and nurses. Dr. Downing said he hopes to expand the partnership to allow for Liberian surgical residents and surgeons to come to Kalamazoo for a month to give them a different perspective on medicine, recognizing there are cultural, physical and financial differences that make it impossible to replicate the American health care system.
"We are embarking on collaborative research between our department and their department," Dr. Downing said. "My personal goal is to enhance the education of Liberian surgical residents who will become future Liberian surgeons."  
Overall, the trip was insightful and one of the most challenging life experiences she has had thus far, Dr. Gao said. The heat and operating conditions made it physically and mentally challenging, but Dr. Gao said she saw how resilient the healthcare workers are despite the healthcare system, its challenges, the country's corruption and healthcare workers who sometimes don't see a paycheck for months at a time.  
"When I signed up to do this elective, global surgery wasn't necessarily something that I was super involved in at all," Dr. Gao said. "I knew that it was something that I was interested in, but I had never had a chance to go and actively be a part of it. This experience has really made my interest grow a lot more. Now I know that there really is this need around the world, and it makes me more thankful for the resources we have here in America."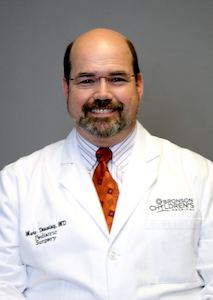 Liberian families in general have a distrust of health care and often cannot afford to pay for the services up front. By the time they take a family member to the hospital for treatment, the patient is in much worse condition, and the patient's outcomes are worse, Dr. Gao said.  
Dr. Downing and Dr. Gao spent most of their time operating at two hospitals, JFK Memorial and ELWA Hospital, and rounding on patients who were recovering from surgery. Dr. Gao worked with Dr. Downing and a variety of other attendings. 

"There were a lot of operative cases I was involved in while there that were certainly different than here because the people came in very sick." Dr. Gao said. "We never knew what to expect because CT scans aren't readily available and even basic ultrasounds or x-rays aren't available at times. Sometimes the family doesn't have the money to afford procedures. Sometimes the machines aren't working. People in America have more trust in the health care system and they'll come in, for example, when they start having abdominal pain. In my long conversations with the doctors in Liberia, people will come in after weeks of having pain because they think it will pass and only seek treatment when it becomes unbearable."  
Dr. Gao performed surgeries on strangulated hernias, gangrenous foot infections that required amputations, exploratory laparotomies, perforated appendicitis and other conditions in children and adults.  
"I knew it was a very resource-limited area, and I was prepared for that, but going there and seeing the extent of how resource-limited it was truly eye-opening," Dr. Gao said. "I write for the medications and then the patient's family decides if they have enough to buy the medications and buy the labs, x-rays and ultrasounds that are needed. The care that you can provide as a doctor in a place such as Liberia is really based on what the family can provide up front. I saw that over and over again. While in my head I was like, oh, I'm not going to have this type of suture available or I might not have my glove size available, what I came to realize wasn't available was truly so much more than that."  
The government-funded, ward-based hospital environment shocked Dr. Gao, she said. Several patients share a small room and their beds are separated by curtains. The hospitals do not have air conditioning, and flies buzz around the patients. These critically ill patients are at the mercy of the procedures and tests their families can afford. On the other hand, at ELWA, the private hospital, the care team efficiently performed wound care and daily patient care, she said.  
"I live my life needing to know that I've been able to have a lot of different perspectives," Dr. Gao said. "Time is fleeting, and soon I won't be able to have these opportunities where I can pick up for an entire month and go to a low-income country and practice medicine there. I wanted to make sure I went while I had the chance to experience this, learn from it and gain a new perspective."  
As part of the effort to establish and promote a mutually beneficial academic relationship between WMed and the department of surgery at JFK Memorial Medical Center, Bronson has partnered with Dr. Downing and WMed to donate medical equipment to Liberia in conjunction with the trips. This equipment and medical supplies no longer meet the United States' criteria for use, but can be used in foreign aid. For this most recent trip, Bronson donated 18 cots for emergency COVID-19 care, 45 pallets of excess personal protective equipment including gowns, gloves, masks, booties and goggles, and expired hospital supplies. Jon Moyle, the chief financial officer at Mattawan-based Ralph Moyle Inc., offered to transport the materials to Atlanta, Georgia, at no charge, so it could be shipped to Liberia. Included in the donations were two esophageal dilators that had been replaced due to age. Dr. Downing trained Liberian surgeons to use the equipment so they can evaluate caustic esophageal injuries. Liberians make their own soap and on an almost daily basis a child drinks the solution that looks like water but causes esophageal burns, he said.  
Medical school leaders hope to expand the global elective so that more of the program's 24 residents have an opportunity to attend, said Saad Shebrain, MD, program director of the medical school's General Surgery residency. The rotation would be impossible to do without the help and connections established by Dr. Downing, Dr. Shebrain said.  
"Dr. Downing arranges the trip from his heart because he wants to take our residents to do good things for people, and be able to work in an environment with very limited-medical resources, and still provide the best patient care possible," Dr. Shebrain said. "He works with Bronson to donate medical supplies. He goes above and beyond.  
"The surgeons in the Department of Pediatric Surgery at Bronson Methodist Hospital are really invested in our residency. They are dedicated to teaching and they have an intrinsic drive to help our residents. We can see that based on the feedback from our residents."