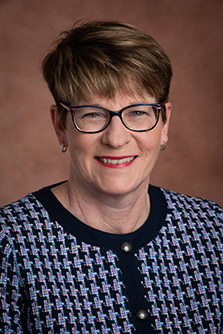 At WMed, we have an uncompromising commitment to lifelong learning, patient care, and discovery.  This year proved no different. Through it all, the safety and well-being of WMed and the Southwest Michigan community that we serve is our top priority. What we know to be true is that philanthropic partnerships enhance our power to do good. Your spirit of philanthropy is inspirational and we are grateful to have you as colleagues, advocates, and philanthropic partners.
Personally, I am grateful to have been selected to follow Founding Dean Hal B. Jenson, MD, MBA to lead and guide the medical school through its next stage of evolution and national distinction. I am awed by the expertise of the faculty who ensure we are offering the absolute best in medical education, clinical care, and research. I am grateful for the commitment and dedication of the staff who work tirelessly to support our learners and patients. I am inspired by the intelligence, enthusiasm, and commitment of the talented students and residents who are furthering their education and training at WMed.
I am also deeply grateful for everything you, our supporters and advocates, have done and are doing to allow WMed to serve our community, add value to the quality of life in our region, to address disparities in healthcare, to attract students, faculty, and staff from backgrounds underrepresented in medicine, and to inspire our youth to consider careers in healthcare and medicine.
I am continuing to focus on listening and learning about the history of WMed and the community we serve. Through our Empowering the Future strategic planning initiative, we are talking to community leaders and organizations to ask and learn how best we can have a positive impact in addressing healthcare equity, to support the activities of our local businesses, and to enhance the value proposition that WMed brings to Southwest Michigan.
We are honored by the philanthropic commitment our Empowering Futures Gift donors have made to support the medical school in our next decade. I look forward to continuing to update you on the activities and opportunities this landmark gift will make possible for the medical school and our community.
Our 2020-21 philanthropy impact report tells the amazing story of what you, our donors, have accomplished in supporting the mission of WMed over this past year. Thank you for your generous financial support. Stewarding these precious resources is a top priority. No matter the size of your gift, every donation makes a real difference in expanding the educational opportunities for our students and residents. Thank you!
Sincerely,
Paula M. Termuhlen, MD
The Hal B. Jenson MD Dean
2021-22 Philanthropy Impact Report
We are very pleased to share with you the 2021-22 Philanthropy Impact Report, which shows the tangible ways donor support has made a real difference in advancing the mission of the medical school.