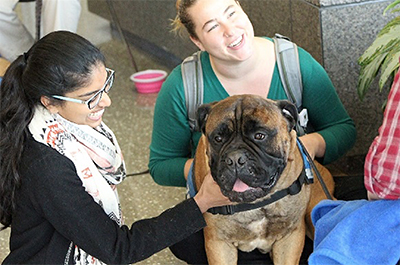 We are committed to fostering a culture of wellness that will follow students throughout their careers. The medical school offers countless wellness-themed events throughout the year, including wellness breaks before each exam, and Wellness Week, an entire week dedicated to wellness activities. During these events, students engage with wellness activities and programming like healthy snacks, movie nights, wellness seminars, and even therapy dogs! We also have a fitness facility for students to use with treadmills, weight-lifting machines, and a group exercise room.
Several students are members of the Wellness Committee, a student-led, administration-supported group that aims to provide wellness education, programming, and activities to our students. The Wellness Committee has identified six facets of wellness: Physical, social, mental, financial, spiritual-cultural, and community wellness.
Additionally, there are several student interest groups at the medical school that incorporate student wellness into their overall focus and mission.
Counseling Services
Limited, free, confidential personal counseling services are available to students with school-related adjustment issues such as anxiety or situational depression. Independent licensed counselors serving as consultants to the medical school provide the sessions and are bound by confidentiality. Students may confidentially make appointments by contacting Dr. Mary Wassink at 269-760-9220 (text or call), or Willow Path Counseling Center at 269-459-8889. Fees for up to six counseling sessions are paid by WMed.
Additionally, a list of private practice counselors, psychologists, and substance abuse counselors is available on the Student Portal in the Student Counseling and Support tab (login required). This information is provided as a guide, and any fees that may occur are the responsibility of the student. Questions regarding these resources can be directed to Student Affairs.