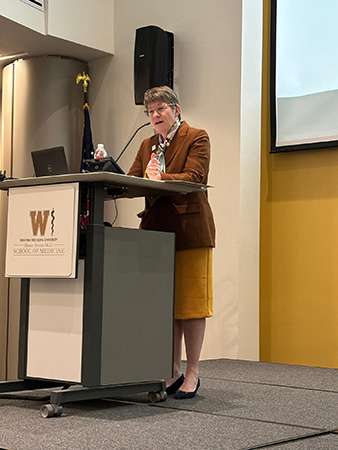 As she listed off highlights from the past year during the annual State of the Medical School update, WMed Dean Paula Termuhlen, MD, had a message for the faculty and staff in attendance – there is much to be proud of.
The event, held Wednesday, November 8, 2023, in the William D. Johnston and Ronda E. Stryker Auditorium at the W.E. Upjohn M.D. Campus, offered a chance for Dr. Termuhlen and other leaders to recap recent exciting developments at WMed, from LCME accreditation and new senior leadership to a new research strategic plan and work that is underway as part of a continual commitment to diversity, equity, and inclusiveness.
"Thank you all for your commitment to the medical school and our vision of health equity for all in Southwest Michigan through innovation in the practice and study of medicine," Dr. Termuhlen said.
Dr. Termuhlen began her address by calling attention to significant milestones tied to WMed's medical education mission. She touted the medical school's six graduating classes and their exceptional performance as a whole on the United Stated Medical Licensing Exam (USMLE), as well as their strong performance in the Match, with 98 to 100 percent of students from each cohort matching into competitive residency programs.
Additionally, Dr. Termuhlen highlighted the recent news that the medical school has been granted full accreditation from the Liaison Committee on Medical Education (LCME) for an eight-year term, the maximum time possible. The granting of full accreditation followed a LCME team visit and survey that took place at the medical school in April 2023.
"All of this serves as our external and national validation of our success in launching the medical school and now being a mature institution that has the eight years of full accreditation," she said. "We've successfully cleared every hurdle along the way on the exact timeline without delay so that speaks volumes to the amount of time, energy, and effort of everyone involved, and their dedication to the work that we do to get it right."
In terms of other exciting news at the medical school over the past year, Dr. Termuhlen listed off several other accomplishments, including:
The WMed Human Research Protection Program (HRPP) was granted full reaccreditation by the Association for the Accreditation of Human Research Protection Program (AAHRPP).
Faculty published more than 400 scholarly publications in 2023.
The medical school received 32 new grants and awards totaling more than $7 million.
A number of new senior leaders – recruited and appointed – were tapped to head up several areas at the medical school, including the research, undergraduate medical education, clinical affairs, and the Department of Psychiatry, among other areas.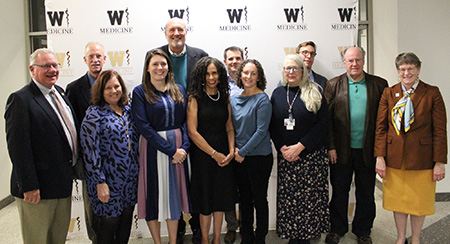 Following Dr. Termuhlen's remarks, other leaders highlighted work done over the past year that is directly connected to WMed's three strategic priorities – promoting health equity, elevating our organizational culture, and advancing medicine and science.
To that end, faculty and staff at this year's State of the Medical School update got the chance to hear from Nic Helmstetter, MD, about Street Medicine Kalamazoo and how the program, led by Dr. Helmstetter and Sravani Alluri, MD, is helping deliver important services and patient care to those who are unhoused in Kalamazoo.
As part of highlighting the elevating of organizational culture at WMed, Cheryl Dickson, MD, MPH, associate dean for Health Equity and Chief Diversity Officer, and Karen Horneffer-Ginter, PhD, associate dean for Culture and Chief Wellness Officer, reviewed several initiatives at the medical school aimed at building a strong culture and elevating efforts around diversity, equity, inclusiveness, and belonging. Those efforts include WMed's allyship program, health careers pathway programs, and implicit bias training. Other efforts have included programming focused on psychological safety and burnout prevention, as well as employee engagement and recognition. Drs. Dickson and Horneffer-Ginter were followed by Robert Sawyer, MD, senior associate dean for Research, who provided an overview of the medical school's new research strategic plan and the overall vision for WMed to be recognized for collaborative discovery and science that impacts our diverse community.
This year's State of the Medical School update concluded with an awards ceremony for several WMed faculty who were the recipients of WMed's Faculty-to-Faculty Awards from 2020 to 2023. The award recipients who were honored this year were:
Faculty of the Year
Lauren Piper, DO (2020)
Parker Crutchfield, PhD (2020)
Katharina Elliott, MD (2021)
Kathryn Redinger, MD (2022)
Timothy Bauler, PhD (2022)
Melissa Olken, MD (2023)
Distinguished Service Award
Tom Melgar, MD (2020)
William Fales, MD (2021)
Keith Kenter, MD (2022)
Cheryl Dickson, MD, MPH (2023)
Lifetime Achievement Award
Richard Roach, MD (2020)
Hal Jenson, MD, MBA (2021)
Mark Loehrke, MD (2022)
Richard Lammers, MD (2023)