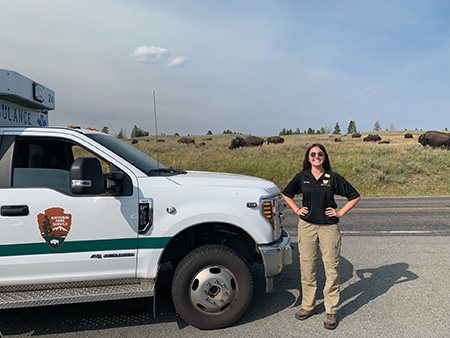 In August, M4 Seyjil Turpin spent two weeks at Yellowstone National Park working closely with Park Rangers and other National Park Service EMS providers, and getting an up-close look at what is a high-functioning system for pre-hospital care.
During that short time at America's first national park, she assisted with a complicated search and rescue and later, she helped intubate a parkgoer who suffered a seizure while paddleboarding with his wife.
In both instances, Turpin said she got to be a part of cases she hadn't yet seen or experienced as a medical student in Kalamazoo. At the same time, she gained an appreciation for the challenges and complexities Yellowstone's rugged and austere environment added to the emergency situations.
She also had the time of her life.
"The experience was hands-down probably the best I've had in medical school, and one of the best in my life," Turpin said. "It is a unique opportunity and a once-in-a-lifetime opportunity. When else are you going to be able to go out to the nation's first national park and work intimately with the care teams there? The perspective you gain after doing the rotation is invaluable."
Turpin is part of a growing number of learners from WMed – students, Emergency Medicine residents, and EMS fellows – who have completed elective rotations at Yellowstone as part of a unique collaboration that began in 2020 when the Department of Emergency Medicine began providing medical direction for the park.
What has taken root since that time, WMed and Yellowstone leaders say, is a mutually beneficial partnership in which medical school students, residents, and fellows are getting the opportunity to use and sharpen their EMS skills in a beautiful, but resource-limited, setting. Meanwhile, Yellowstone's talented EMTs and paramedics are benefiting from the expert training provided by faculty, residents, and fellows from WMed.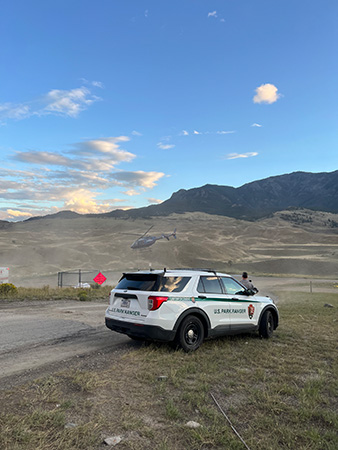 "There's only one Yellowstone and this collaboration has really given our learners the opportunity to experience a different aspect of medicine and apply those fundamental concepts of emergency medicine and EMS in some very unique situations," said Bill Fales, MD, professor in the Department of Emergency Medicine who also serves as director of the medical school's Division of EMS and Disaster Medicine.
The partnership between Yellowstone and WMed began to take shape in the summer of 2019, shortly before Will Selde, MD, who completed his Emergency Medicine residency training at WMed in 2013, became the park's medical director. Prior to starting his role at Yellowstone in March 2020, National Park Service officials reached out to Dr. Selde about his ties to WMed and how that relationship could foster a new partnership with the medical school to provide medical direction and potentially open the door to other training and research opportunities.
As an institution, WMed is uniquely positioned to provide high-quality EMS medical direction services to Yellowstone, despite the distance between the two entities. WMed is one of only a few medical schools in the nation to maintain an on-call Emergency Medicine resident physician or EMS fellow who provides medical control to EMS units 24/7. Residents and fellows are supervised by on-call Emergency Medicine faculty and medical control consultations from Yellowstone are routed to an on-call EMS physician through the county/regional MEDCOM Center, operated by West Michigan Air Care. A newly acquired, sophisticated recording system allows for effective case reviews of communications between EMS field personnel and medical control physicians.
Since 2020, WMed has provided medical direction to Yellowstone EMS on nearly 500 calls, with consultations lasting an average of about nine minutes. A quarter of those calls have lasted 11 minutes or longer and 10 percent of the calls lasted 19 minutes or longer. Illustrating the complexity of the Yellowstone EMS consultations, most Kalamazoo EMS consults last less than four minutes.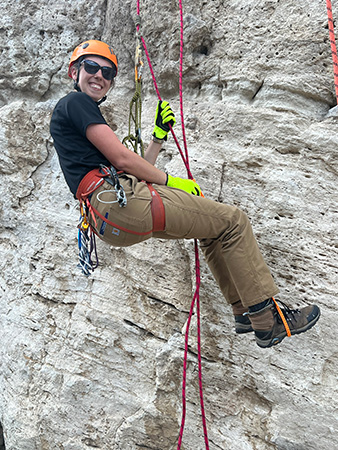 "Overall, it's going excellent," said Dr. Selde, who is a physician at the Billings Clinic in Billings, Montana, serves as EMS medical director for a number of Montana EMS agencies, and is a clinical assistant professor in the Department of Emergency Medicine at WMed. "Yellowstone is a unique learning environment and we provide them with EMS-specialized trained personnel so it's a nice symbiotic relationship where they have the place and space, and the patients, and we have the people and training.
"We're really a value added to them," Dr. Selde added. "They already had a complex and high-functioning EMS system because of their commitment to training. We're able to add a physician-level expertise that they don't have organic to them and that's where we really shine from that physician and academic-level position."
As the partnership between Yellowstone and WMed has matured over the last three years, six students have completed two-week elective rotations at the park while residents can do longer four-week electives. EMS fellows, specifically, go to Yellowstone for a week in May and August and get the opportunity to lead on-site trainings with Yellowstone EMS personnel.
"As a resident, I got the chance to engage with the medics at Yellowstone and really see the behind-the-scenes stuff and develop projects that focused on the quality improvement and quality assurance aspects of EMS," said Stephen Godfrey, MD, who completed his Emergency Medicine residency at WMed in June and is now completing his EMS fellowship training at the medical school. "As a fellow, I'm in a role now more focused on continuing education where we visit the park for a week and conduct training sessions at different locations to ensure everyone is functioning well as a group."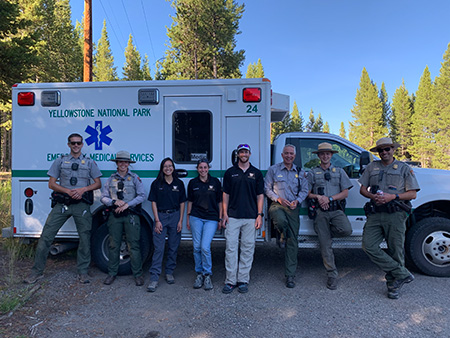 In a given year, Yellowstone typically attracts nearly 5 million visitors. Additionally, the park is vast in size and presents unique and common health hazards, making the need for an effective EMS system paramount. Yellowstone EMS includes both basic life support (BLS) and advanced life support (ALS) National Park Service personnel and the park maintains 10 ALS ambulances and two non-transporting ALS units, with essentially all law enforcement rangers carrying either BLS or ALS equipment. They operate their own 911 center serving not only the park but also several neighboring communities.
"There are a lot of really unique things about Yellowstone," said Stephanie Van Alsten, MD, an assistant professor in the Department of Emergency Medicine and WMed alumna who completed her EMS fellowship training at the medical school in June. "First and foremost, it's a pretty large area and it's pretty remote from any hospital in any direction so their EMS system is very complex. They transport to facilities that are a long distance away so they spend a lot of time with their patients."
Annually, Yellowstone EMS responds to more than 1,000 incidents that present a wide variety of typical and unusual clinical conditions from heart attacks and broken bones to complex search-and-rescue operations and injuries from bison and elk encounters.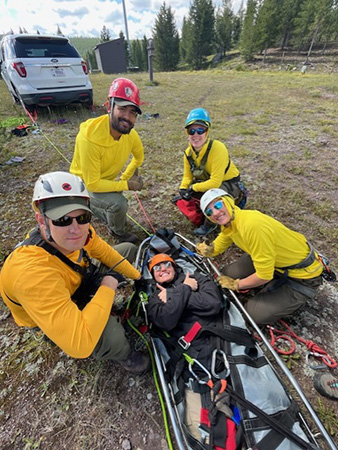 The EMS system at Yellowstone includes 198 providers during the summer with 10 ambulances that travel to 10 different receiving facilities in Idaho, Montana, and Wyoming. Providing emergency care in the field can often prove challenging as the closest medical facility is more than an hour from Yellowstone and EMS calls for providers can often run four to six hours in length.
"We have one of the largest expanses of federal land in the lower 48 – 2.2 million acres – but we're very populated in some areas," said Jim Warren, Chief of Emergency Services for Yellowstone National Park. "So much of what we do is similar to urban EMS but in a very remote and rural setting. You can get some fairly complex and acute cases and everything surrounding that can be a logistical nightmare.
"But along with those challenges, we do get to work at one of the most beautiful places on earth and we're able to interact with visitors whose lives are being changed just by being here," Warren added. "Additionally, on our EMS calls, we get to make that human connection and impact people's lives."
WMed students who have completed the two-week elective at Yellowstone have seen that impact firsthand. M4 Jessica Ziccarello spent time at the park in September and was part of a team that responded to a cardiac arrest in the neighboring town of Gardiner, Montana. At the scene, and after an extensive resuscitation resulting in return of circulation, she and members of Yellowstone EMS resuscitated the patient and transported them to a local airfield so they could be flown to Bozeman, Montana, for further treatment.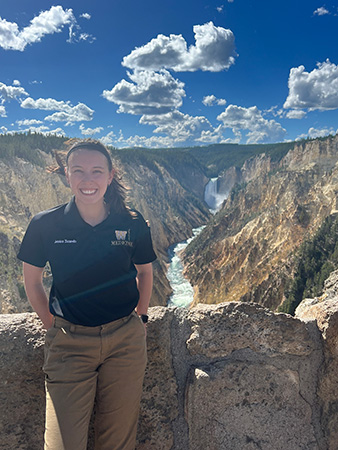 "That was just my first day," Ziccarello said. "Anything can happen at Yellowstone and you have to be prepared for everything. I will never forget the experience of that cardiac arrest call and watching the teamwork between the BLS and ALS providers, and how they worked with limited resources to get the patient what they needed despite the logistical challenges."
When she took part in the elective at Yellowstone in June, M4 Elle Davio said her first day at the park included the chance to assist on a call for a patient whose lips had turned blue as he and a passenger were navigating their truck and RV through Yellowstone. At the scene, the man refused treatment, Davio said, because he didn't want to miss out on what was a trip of a lifetime to the national park.
Davio said as she worked to convince the man he needed further treatment, he passed out and had to be taken to the clinic at Yellowstone. Once there, Davio said she was assigned to collect the man's medical history information. Later, she said the man had to be flown from the park to a nearby hospital after his oxygen saturation dipped below 30 percent.
"I wish the elective was a month because there was no amount of time that would have been enough for the things there were to do and experience," Davio said. "It teaches you that you have to let go of control and you have to learn to improvise and think on the fly. For me, that was the biggest takeaway."
Davio, Turpin, Ziccarello, and M4 Christine Hua said their experiences at Yellowstone also gave them a deeper appreciation and better understanding of the challenges that pre-hospital providers can potentially face in the field before a patient is brought into a hospital's emergency department for treatment.
Hua said she also gained valuable perspective on what it means to provide medical care in a remote setting. During her two-week rotation at Yellowstone in August, Hua responded with Dr. Van Alsten to a call for a patient with chest pain and an irregular heartbeat. At the scene, the patient's heart needed to be shocked and they were then taken by ambulance and then helicopter to a hospital for further treatment.
"Honestly, the elective was the experience of a lifetime," Hua said. "As a medical student hoping to go into emergency medicine, I was already interested in EMS and wilderness medicine so I felt like this rotation was the perfect complement. It was very unique and I absolutely loved it.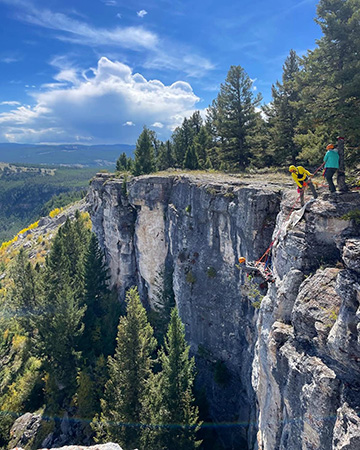 "I really got to see and gain an appreciation for operating in remote settings and seeing that interplay of resources and communication," Hua added. "As a medical student, gaining that perspective of pre-hospital management and how it coordinates into emergency medicine and the way the hospital operates is really valuable."
In addition to the work they were able to be a part of, students, residents, and fellows have also gotten to experience Yellowstone in their downtime hiking and whitewater rafting, among other things. They've gotten to see bison and grizzly bears, and elk. They've gotten to see the world-famous eruptions of Old Faithful.
"It was incredible," Turpin said. "It was a really great balance of enjoying the outdoors and getting that hands-on experience."
Looking ahead, Dr. Selde said he is hopeful that the Yellowstone elective will continue to grow to the point that multiple students, residents, and fellows will be able to take part and visit the park at the same time. He also hopes to one day have a WMed-branded vehicle for use at the park during the summer months.
"It really is very rare to have the opportunity potentially to go and live and work in a national park, let alone the national park that does the most EMS runs out of any park in the country," said Dr. Selde, who is currently stationed in Rota, Spain, as part of a two-year active-duty assignment with the U.S. Navy at Naval Hospital Rota. "Other parks might have more calls but those calls are run by outside agencies. You get a unique opportunity in Yellowstone to do patient transport in a high-functioning EMS system but it's also the only game in town.
"I also think it's important to recognize the really expert EMS work of the Yellowstone system and how we get to work with them and that makes our program at WMed better because we're seeing in a non-academic setting all of the things we say we think are best practices and how people should train and they're doing that."
Dr. Selde said that in addition to growing the medical school's relationship with Yellowstone EMS, there are also opportunities for WMed to be a similar resource for other national parks. That vision has already come to fruition at Indiana Dunes National Park where Dr. Van Alsten has served as medical director since June.
The relationship between WMed and Indiana Dunes was a direct result of the Yellowstone partnership. Since taking over as medical director this past summer, Dr. Van Alsten has led trainings for the EMT rangers and lifeguards who are part of the park's BLS system.
At Yellowstone, Warren said he and his team are appreciative of the expertise that WMed faculty, residents, fellows, and students have provided over the last three-plus years, including higher-level program development and routine case reviews. He said he also values the relationships that have been built through the in-person rotations and electives, as well as during medical control calls as WMed faculty and residents provide medical direction to EMS personnel at Yellowstone.
"This really takes us out of the national park silo and more onto the national stage where we are maintaining the kind of EMS service you might expect in New York City," Warren said. "The care is standardized and on par with your Los Angeles or Kalamazoo. It's a professional EMS/paramedic service."
At WMed, Dr. Fales said the medical school's collaboration and partnership with Yellowstone EMS has in many ways helped strengthen the EMS system in Kalamazoo, as well as at the state level where Dr. Fales serves as EMS medical director for the state of Michigan.
For example, providers in Yellowstone for a number of years have used IV antibiotics to treat open fractures, a practice that is now being added to state of Michigan protocols. Additionally, Dr. Fales said Yellowstone EMS also uses advanced EMTs, a role with more experience than a regular EMT but less experience than a paramedic.
Given the current shortage of paramedics in the state of Michigan, Dr. Fales said officials are now looking at whether advanced EMTs could be a future role and option to provide care in areas where paramedics aren't available.
"They are just really high-quality clinicians that care a lot about the patients they see at Yellowstone," Dr. Fales said. "Jim and his team have a great patient-focused mindset and you can't ask for anything more than that, it's just a great attitude. We are so very fortunate to be part of their amazing system."