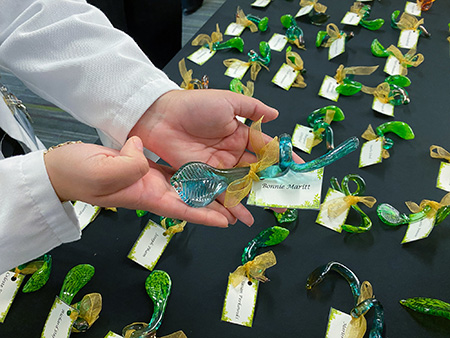 As she prepared to perform the song "How Does A Moment Last Forever" during this year's Donor Remembrance Ceremony, M2 Lauren Brown took a moment to express her appreciation for those whose legacy she said will live on through her future work as a student and physician.
"Even though our donors are not here in person today, their memory lives on," Brown said. "Know that their donation has played a vital role in our medical education. Their legacy will continue on in every injury we heal, every sickness we cure, and every soul we touch."
Brown's remarks and performance came during the Donor Remembrance Ceremony that was held on Sunday, October 1, 2023, at the medical school's W.E. Upjohn M.D. Campus. More than 100 people attended this year's event as the WMed Body Donation Program honored and celebrated 64 donors who donated their bodies to medical school in 2021 and 2022.
Attendees included donors' families, as well as members of the community and WMed students, faculty, and staff.
"In my role as the anatomy co-director at WMed, I work with our medical students to help them learn the anatomy that is essential to their careers as physicians," said Sara Allison, PhD, assistant professor in the Department of Biomedical Sciences. "Through their encounters with your loved ones, their learning has extended far beyond just anatomy … From your loved ones' priceless gift, students have learned the true meaning of sacrifice and they have shown the respect and compassion required of such an important gift."
As a show of appreciation to donors and their families, Brown and several other students played music and read poetry during the Donor Remembrance Ceremony. Several pieces of art were also on display at the event from M2s Srikavya Pasumarthy, Amanda Wewer, and Natalie White.
M2 Bradley Christensen performed "Rhapsody on a Theme of Paganini, Variation 18," a piece often affectionately referred to as the love theme. Meanwhile, M2 Kayla Grooters read a piece of her own poetry titled "The Time Blanket" and M2 Daryna Hodgson performed Bach's "Allemande from Partita No. 2."
Hodgson said the piece by Bach that she performed on violin was "full of deep meaning, reflective, and solemn but hopeful."
"Our donors are very special to us and we deeply appreciate them," she said.
Christine Pink, PhD, assistant professor in the Department of Pathology who serves as director of the Body Donation Program, said she was grateful to members of the student planning committee who helped make this year's Donor Remembrance Ceremony a success. The committee members included Brown, Grooters, and Hodgson, as well as M2s Quang Dang, Autumn Fritz, Emily Hinners, Jesse Kooistra, Ariel Miller, Urvi Savant, and Jordan Terry.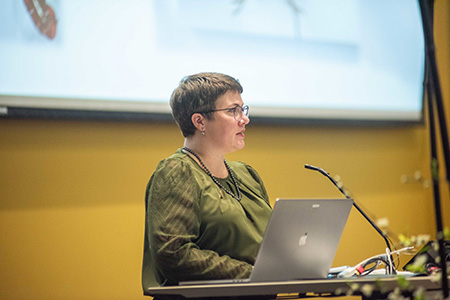 After the student performances at this year's ceremony, the names of each of the 64 donors was read at the ceremony. Donors who served in the U.S. military were also honored with the playing of "Taps."
"Our donors, your loved ones, are the ultimate servants to their community," Dr. Pink said. "These students of medicine will go on to be physicians, in part, because of the priceless gift our donors have given to WMed. Every day when I walk through these doors I am humbled and I am honored because of the gift they have bestowed upon us.
"My only hope is that I can live up to their legacies."
Each of the 64 donors who were honored at this year's Donor Remembrance Ceremony will be represented by a glass leaf that will be added to the Body Donor Memorial Tree at the W.E. Upjohn M.D. Campus. Each unique piece of glass is engraved with the name of the donor and serves as a constant reminder of the individual's selfless gift to advance medical education. The Body Donor Memorial Tree commemorates all who have made donations to the Body Donation Program at WMed since the program's inception in 2014.