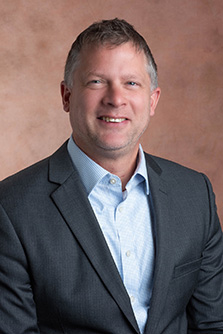 The medical school welcomed a new senior director for its Office of Information Technology in July.
Mike Fusko began his role as senior director for Information Technology and Chief Information Officer at WMed on July 31, 2023. Fusko replaced Carol Heinicke who retired in June after numerous years at the helm.
Fusko comes to WMed following a five-year stint at InterCare Community Health Network  in Bangor where he served as the Chief Information Officer and Vice President of Information Systems and Technology. He also previously held the position of Chief Information Officer and IT Director at the West Michigan Cancer Center.
Fusko boasts extensive experience in aligning IT strategic plans with organizational strategy, electronic health record systems, server and information storage, data security and governance, budgeting, project management, as well as recruiting and developing IT team members. He has training and experience in many IT systems, including Epic, Cerner, SQL, and Citrix, and he brings to bear a leadership style that is collaborative and customer service-focused.
"I'm fortunate to have the opportunity to be a part of this very innovative WMed team and look forward to making an impact in supporting our mission," Fusko said. 
Fusko earned his master's degree in health informatics from the University of Illinois Chicago and a bachelor's degree in business administration with a concentration in computer information systems from Western Michigan University.