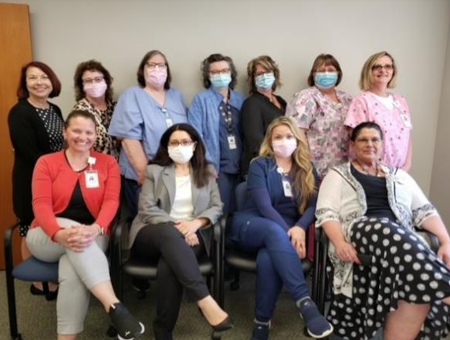 The WMed Health Cystic Fibrosis clinic was recognized and honored recently by the Cystic Fibrosis Foundation (CFF).
In July 2022, following a successful Cystic Fibrosis Affiliated Program site visit by CFF, the clinic was given full five-year accreditation. In addition, more recently, in October 2022, the clinic was selected as a 2022 recipient of the annual CFF Quality Care Award: Recognizing Outstanding QI Processes and Accomplishments. The award will be presented to the medical school's CF team on November 5, 2022, at the U.S. Center and Program Directors' meeting during the North American Cystic Fibrosis Conference (NACFC) in Philadelphia, Pennsylvania.
"It really means a lot," said Mariam Ischander, MBChB, assistant professor in the Department of Pediatric and Adolescent Medicine, who leads the WMed CF team. "It's very encouraging and it confirms for us that we're doing things that are valuable for our patients because the Cystic Fibrosis Foundation is a strong advocate for patients."
The WMed Health Cystic Fibrosis clinic provides comprehensive care for patients of all ages – infants, children, adolescents, and adults with cystic fibrosis at the medical school's Oakland Drive Campus. The Cystic Fibrosis Affiliated Program is fully accredited by the Cystic Fibrosis Foundation and the multidisciplinary team is committed to providing compassionate and high-quality patient and family-centered care. The CF team includes Dr. Mariam Ischander, a pediatric pulmonologist, Thomas Flynn, MD, an adult and pediatric infectious disease physician, nurse coordinators Nicole Vess and Debra Wells-Schmidt, respiratory therapist and CF coordinator Carolina Herrera, Teresa Bailey, PharmD, pharmacy technician Kristi Homan, CF dietitian Sally Bonnema, licensed medical social workers Andrea Caskey and Mandy Perl, physical therapist Christine Schuppel, medical assistant Julie Hovey, clinical research coordinator Debbi Hotchkiss, clinical trial assistant Courtney Kiewiet, regulatory document coordinator Debra Lovely, and M4 Jessica Ziccarello.
The CF team has established a culture of quality improvement in the cystic fibrosis program to improve efficiency, patient safety and clinical outcome. Dr. Ischander said the QI award from CFF stemmed from several quality improvement projects the CF team has completed since 2018, as well as the completion and continued participation in CFF-sponsored training programs.
The QI projects that have taken place since 2018 include:
QI project to decrease down time which is the time the patient spends with no provider in the room
QI Project to improve pre-visit planning
QI patient readiness for the transition from pediatric to adult care.
A Sweat Chloride QI project to decrease the quantity not sufficient (QNS) rate for sweat chloride tests for CF diagnoses and reduce the burden of repeat testing for patients and families.
An Inpatient Physical Therapy QI project to improve the exercise capacity for qualifying patients with cystic fibrosis aged 3 years and older who are admitted to the hospital for a duration of one week or longer for an admission reason related to a CF exacerbation.
A CF Registry QI project to optimize the consenting process for the CF Registry in compliance with medical research.
A Multidisciplinary After Visit Summary QI Project to improve patient care, communication, and safety by providing easily understood plans of care via the After Visit Summary instructions.
A Smart Report QI project to provide CFSmartReport-Short Summary report to more than 90 percent of CF patients participating in the CF Registry with the goal to improve collaborative communication and education regarding a patient's CF status.
A Stethoscope/Clipboard/Pen QI project to distribute stethoscopes, clipboards, and pens to every CF patient to decrease cross contamination.
A Directly Observed Therapy for Vitamin D Intake in CF Patients QI project
In addition to the QI projects, Dr. Ischander said the CF team at WMed Health completed the Cystic Fibrosis Fundamentals to OneCF Learning and Leadership Collaborative sponsored by the CF Foundation and run by The Dartmouth Institute for Health Policy & Clinical Practice, Geisel School of Medicine at Dartmouth. The team also completed the Cystic Fibrosis Foundation Virtual Partnership Enhancement Program, which is sponsored and run by the CF Foundation.
Our Cystic Fibrosis team is also currently involved in the Cystic Fibrosis Lung Transplant Transition Regional Dissemination Network (CF LTT RDN), which is sponsored by CF Foundation and run by the Institute for Excellence in Health and Social Systems (IEHSS), College of Health and Human Services, University of New Hampshire. The focus is on timely referral of cystic fibrosis patients with advanced lung disease to lung transplantation, empowering patients, and families to make informed decisions to improve outcomes and quality of life.