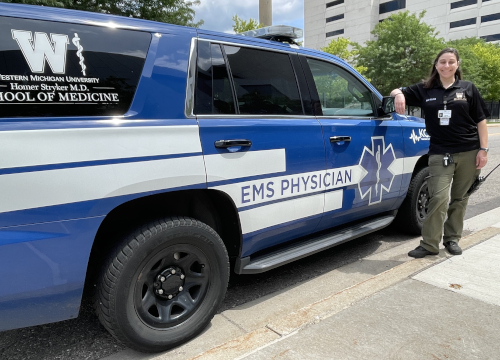 When they came to WMed as members of the medical school's second cohort of future physicians – the MD Class of 2019 – Neil Hughes and Stephanie Van Alsten found a learning environment bolstered by faculty who nurtured and fostered their dreams to become doctors.
That experience stuck with them as Hughes chose to stay at WMed following graduation to complete his residency training in internal medicine and Van Alsten matched into the Emergency Medicine residency program at the West Virginia University School of Medicine.
Now, with their residency training behind them, Dr. Hughes is spending an additional year at WMed and Dr. Van Alsten has returned to Kalamazoo as fellows in the medical school's Simulation and Emergency Medical Services fellowship programs, respectively.
"I know that for EMS training, this is a really strong community and very EMS-oriented," said Dr. Van Alsten, who grew up in Kalamazoo. "I knew coming back here after my residency training that I would receive the kind of training and mentorship that is going to prepare me to be a medical director."
Meanwhile, Dr. Hughes has the distinction of being the first-ever fellow in the Simulation program at WMed. The decision to pursue the fellowship brought Dr. Hughes full circle as he started working in the Simulation Center in 2012 shortly after graduating from Western Michigan University and was part of laying the foundation for what the 24,000 square-foot facility has become today.
"That early experience really kickstarted my passion for simulation, education, and teaching," said Dr. Hughes, who grew up just south of Kalamazoo in Portage.
Drs. Hughes and Van Alsten officially began their fellowship training at WMed on July 1 along with new fellows in the medical school's Forensic Pathology, Hospice and Palliative Medicine, and Sports Medicine fellowship programs.
Dr. Van Alsten said her fellowship has already afforded her plenty of new learning opportunities, including responding to medical calls in the community in MSU-1, the medical school's resident response vehicle. One of those calls led to Dr. Van Alsten intubating a patient at the WMed Health clinics on Oakland Drive as attending physicians who were once her teachers looked on.
"That was a pretty crazy experience," she said.
Dr. Van Alsten said she's also looking forward to heading to Yellowstone National Park at the end of August where she will get the chance to learn more about – and work directly with - Yellowstone EMS, a complex, high performing system that includes both basic and advanced life support National Park Service personnel.
"There are a lot of things to look forward to," Dr. Van Alsten said. "I'm looking forward to learning and growing into the medical director that I want to be and I have a variety of mentors here to help me figure that out."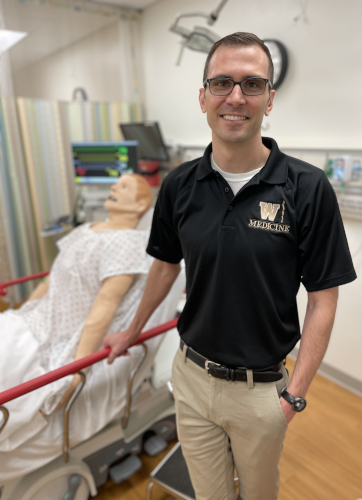 Dr. Hughes said his time so far in the simulation fellowship has been busy as he's assisted with the design of several simulation scenarios and gotten the opportunity to do a lot of teaching with the medical school's newest students – the MD Class of 2026 – who are currently completing their Medical First Responder training course. Dr. Hughes said he's also working on other projects, including helping develop a new simulation curriculum for the medical school's Pediatrics residency program.
He said he appreciates that the Simulation fellowship allows him to balance his time between teaching and patient care.
"I really enjoy patient care but I also recognize that when I'm in a room with five to 10 students and I can teach them something new, those students can go out and each take care of five to 10 patients and it expands my reach and impact," he said. "There's really something about teaching someone and watching them have that aha moment."
Looking ahead, Dr. Van Alsten said she is hopeful that the experience she will gain over the next year as the EMS fellow will help her move into a future role that mixes her passions of being an emergency medicine physician and an EMS medical director.
"I think it affords you the opportunity for teaching and being involved in patient care and clinical medicine, but it also allows you to impact the system as a whole in a greater manner and work more from a systems-based standpoint to try to improve patient outcomes on a bigger scale," Dr. Van Alsten said.
Meanwhile, Dr. Hughes said he is looking forward to working more with WMed students and residents in the Simulation Center as his fellowship training continues. When his training concludes next year, he said he plans to join his wife in Texas where she is completing her residency training in pediatrics.
Looking ahead, though, Dr. Hughes said he and his wife hope to return to the Midwest as they are both natives of the Kalamazoo area. In the end, he said his ultimate goal is to one day be at an institution where he can work as a dean for simulation.
"The Simulation Center at WMed is a very unique place in terms of its size and resources, and the opportunities we have," he said. "This is probably one of the most fun fellowships you can do and I'm having a ball every day. I wouldn't be here without the help of so many people at the medical school that I've met along the way. This has been an environment where so many people have lifted me up this entire time."