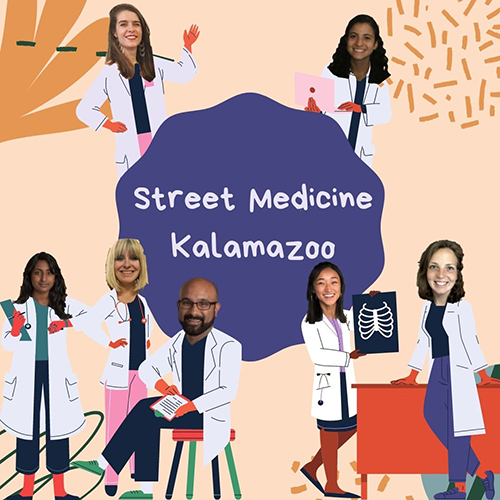 A group of WMed students launched the new Street Medicine Kalamazoo interest group earlier this year with one focus – to provide needed medical care for the community's growing homeless population.
Now, the important work they have taken on has been boosted by a $12,400 grant that was awarded to WMed in April by the Kalamazoo Community Foundation and the United Way of the Battle Creek and Kalamazoo Region. Also, more recently, the group was awarded a $10,000 grant from the Michigan State Medical Society that will fund Hepatitis C screening and treatment in the community.
Dr. Prashant Patel, an assistant professor in the Department of Medicine, is the principal investigator on the new grant and he, along with Dr. Cheryl Dickson, associate dean for Health Equity and Community Affairs, is working alongside the student interest group and Dr. Sravani Alluri, a third-year Family Medicine resident, as they lay the groundwork for an initiative that aims to meet homeless people where they are at and bring medical care directly to them in the field.
"I think this grant money is the real start to us providing care and having the tools to provide quality medical care," M4 Emma Swayze said. "We want to provide the same type of quality care you would get at the clinic because that's the type of care everyone deserves."
Swayze said the grant funding from the Kalamazoo Community Foundation and United Way will help pay for important supplies that the group needs, including medical packs, sharps containers, internet hotspots, scissors, forceps, basic tools to treat skin infections and diagnostic tools such as touchless thermometers, fetal dopplers, a portable ultrasound machine, and HIV and Hepatitis C testing supplies.
For Swayze and other students who are part of the Street Medicine interest group, the new grant funding is a huge step in a journey that began some six months ago. At that time, Arianna Letherer, who recently graduated from WMed, was working with Dr. Patel on a new Street Medicine elective that was a substitute for a global health elective in Madagascar that is led by Dr. Patel but had to be canceled because of the COVID-19 pandemic.
Meanwhile, other students, including M4s Rachel Chang and Rebecca Reardon, were working with Dr. Alluri on launching a separate street medicine initiative at WMed in place of a global health elective in India that was also canceled due to COVID.
"We joined forces with Arianna and it was just the most brilliant collision of minds," Reardon said recently. "That foundational team of a handful of students really dedicated to the effort along with an attending and resident who had backgrounds in - and a passion for - street medicine is what really got it off the ground."
Since then, the students, along with Drs. Alluri, Dickson, and Patel, have been working closely with several community organizations in Kalamazoo, including Food Not Bombs and Integrated Services of Kalamazoo, to determine the exact service gaps that the Street Medicine interest group can play a role in filling.
Dr. Alluri, when she's not seeing patients during her shifts at WMed, works with the Kalamazoo Harm Reduction program and spends time twice a week at a local Baymont Inn speaking with the homeless and identifying those who are in need of primary care services or urgent care. She has also made trips to local homeless encampments. Students, meanwhile, have made visits to Arcadia Park in Kalamazoo with representatives from Food Not Bombs where they have handed out hygiene packs and gotten a chance to speak with homeless people who stay at the park regularly.
"It's been a way to figure out what the community needs are," Dr. Alluri said. "It is so difficult to get these patients to see us in clinic for care and that's where this grant money comes in - it gives us a chance to design another model of care that takes medical services directly to the homeless  … and this is not just about providing medical care, but about mending relationships with this often stigmatized population and giving people a chance to focus on their health again. I think the student leadership and their enthusiasm for this initiative is what will make it successful in the long run."
All of this comes at a time when there is an increased need in the Kalamazoo community because of the COVID-19 pandemic, Dr. Alluri and others said.
"Everything fell in to place at exactly the right moment," Reardon said. "The pandemic has, in many ways, highlighted inequities in our communities, in our government, in our healthcare system. It has absolutely highlighted those issues and I think it's also, at the same time, really brought out those important community partnerships."
Chang, who grew up in the Kalamazoo area and is an alumna of Gull Lake Community Schools and Kalamazoo College, said that being a part of the Street medicine interest group has given her an opportunity to give back to the most vulnerable and those living on the fringes in a community that she loves and is proud to call home.
"Growing up in Gull Lake, I feel like I grew up in a bubble," Chang said. "In college, I really saw how big the disparities are in Kalamazoo. This community is so important to me and I'm so thankful for the experiences I've had and how this community has shaped me, and this is just one small way I want to give back.
"It takes a lot of time, it takes patience, and it takes a lot of hands so we can be another set of hands to help," she added.
For his part, Dr. Patel called the students and residents at WMed who launched the new Street Medicine interest group "heroes."
He said he has appreciated how motivated they have been to start an effort that is focused on meeting patients where they are and addressing the needs of those who are on the fringes of society. He said the students have been thoughtful and cognizant of their approach as they identified stakeholders in the community to work with and determine how they could best help address the needs of the community. 
"No one chooses to live on the streets, no one chooses to be at the fringes of society, but it's due in part to the fact that we as a society have forgotten or turned our eyes away from the folks on the streets," Dr. Patel said. "The ultimate vision, hopefully, is to meet folks where they're at, give them equitable opportunities, and provide basic needs to help find stable housing over time. If a piece of those basic needs is medical care, that's where our group can step in and assist."
Moving forward, Drs. Alluri and Patel, as well as the students, are steadfast in their effort to make the Street Medicine interest group and the initiative a financially sustainable program at the medical school. At the same time, they are hopeful that it will become a longitudinal project that will be integrated into the curriculum for medical students and resident physicians.
"My vision and our vision is that this becomes something that is part of WMed, part of Kalamazoo, and it's not just students going out and doing their best," Reardon said. "This is something that is important to our institution and we want it to become another avenue by which we practice medicine.
"It's a no-brainer," Reardon added. "This is another form of medicine. It's a learning environment, it's patients, it's healthcare and there's something to learn from every patient you encounter."