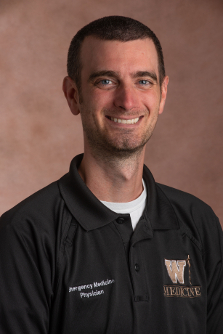 Welcome from the Fellowship Director
In our fully accredited, one-year EMS Fellowship program, our fellows are able to take advantage of extensive opportunities in prehospital and disaster medicine. These include emergency medical services administration, education, field response, mass gathering event medicine, medical oversight, operations, and specialty team responses such as HazMat, SWAT and Tech Rescue. Kalamazoo County has a population of approximately 250,000 and is a referral center for the region, serving over 1 million people. Our EMS System is described as a high-performance, single-tier private ALS system with countywide fire-based BLS first responders. We have two tertiary care hospitals within Kalamazoo. Bronson Methodist Hospital is a Level 1 Trauma Center, Burn Center, STEMI Center, Comprehensive Stroke Center, and houses our pediatric hospital. Ascension Borgess Hospital is a Level 2 Trauma Center, STEMI Center, Comprehensive Stroke Center, and houses our psychiatric hospital. Our WMed Emergency Medicine Residents staff both hospital Emergency Departments. Our fellows serve as junior faculty for the emergency medicine residency program.
The educational experience at WMed is dynamic, comprehensive and enhanced by a response vehicle that is allocated solely for fellows. This allows for efficient scene response and quality improvement activities. Through the hard work and dedication of our EMS personnel and a highly effective EMS system design, cardiac arrest survival rates in Kalamazoo County are among the highest in the nation.
The Kalamazoo County Medical Control Authority is housed within the Department of Emergency Medicine at WMed, and is statutorily responsible for the coordination and oversight of the EMS system. Our EMS Fellows serve as Assistant EMS Medical Directors. This system integration allows for close interaction and education among fellows, medical school faculty, residents, students, and staff.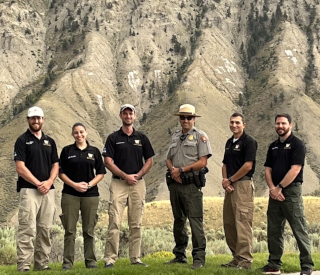 Yellowstone and WMed
Faculty, fellows, and residents from the Department of Emergency Medicine provide 24/7 medical control consultations and direction, assist with on-site continuing education, and participate in a robust quality improvement program for Yellowstone National Park through a collaboration with Dr. Will Selde. Dr. Selde completed his residency training at WMed in 2013 and now serves as the EMS Medical Director for Yellowstone, the world's first national park. As one of only two Emergency Medicine residency programs in the nation to maintain a 24/7/365 resident-staffed EMS response program, WMed is uniquely positioned to provide high-quality EMS medical control services to Yellowstone, despite the distance.
Our Fellows