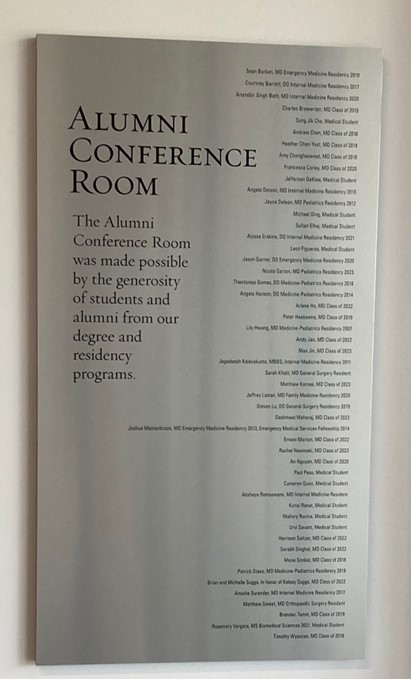 On behalf of the Alumni Association, thank you to current and future alumni, who donated $10 or more to the Alumni Conference Room campaign.  A plaque has been displayed at the entrance of the area in recognition of donor support for the medical school.  
This much beloved space is the premiere choice for students and residents to hold committee meetings, presentations, and study groups. It displays the historical WMed emblem, which evokes a sense of pride for all WMed students, residents, and alumni when visiting the W.E. Upjohn M.D. Campus. This conference room is a comfortable space that features a large boardroom table, modern technology equipment, and a beautiful view of the courtyard.
Thank you all for your support!
More Ways to Get Involved
It wouldn't be possible for us to deliver the events, publications, and engagement opportunities without the strong support from alumni like you. Whether you participate financially with a one-time loyalty gift or a leadership gift, you help to build the tradition of WMed as an innovative national leader in medical education.  
Visit the Alumni Engagement webpage to learn how you can get more involved.