PLEASE NOTE: Our Master of Science in Medical Engineering Program is no longer accepting new applicants.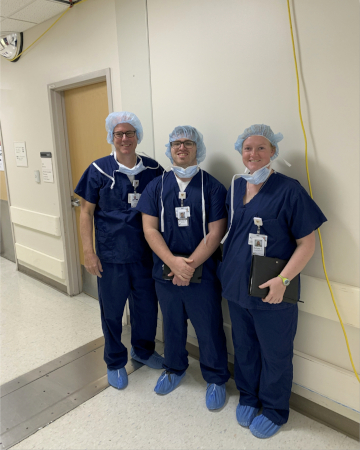 The Master of Science degree in Medical Engineering is an interdisciplinary graduate-level training program for engineers and biomedical scientists interested in creating new medical devices, diagnostic technologies, treatments or processes to improve healthcare. This two-year program is focused on the interface between the traditional disciplines of medicine and engineering where exciting advances in medical devices technology and innovative procedures are occurring. MedE students will have opportunities to interact with engineers, clinicians, surgeons, tissue engineers, residents, nurses, medical technologists, and business and regulatory experts. You will select specialty courses that best match your career goals. MedE students are dual enrolled at Western Michigan University to take advantage of some of the in-depth graduate offerings in these areas. As the capstone to the program, all students will complete a thesis. This final capstone will immerse you in a clinical setting giving you the opportunity to apply the knowledge and skills learned to improve healthcare.
At WMed, you will have personal attention, access to highly accomplished faculty, flexibility to explore your interests, and the support you need to achieve and grow. The integration of classroom and clinical exposure will prepare you for a career in engineering and healthcare.
Interested in a BS or PhD? Visit WMU College of Engineering and Applied Sciences.  
Consumer Information and Campus Safety
As an educational institution, WMed is required to provide consumer information to prospective students. Our Annual Campus Safety and Security Report includes statistics on reported crimes as well as policies and procedures that are designed to promote a safe, secure learning and working environment. For information or to receive a printed copy contact Facilities at facilities@wmed.edu or 269.337.4225.