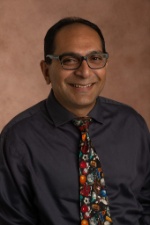 Neelkamal S Soares, MBBS
Division Chief, Department of Pediatric and Adolescent Medicine
Professor, Department of Pediatric and Adolescent Medicine
Professor, Department of Biomedical Informatics
---
Contact Information
Patient Care Related:
Developmental-Behavioral Pediatrics, 269.337.6430
Biosketch
Dr. Neelkamal Soares is a Professor in the Department of Pediatric and Adolescent Medicine and the Department of Biomedical Informatics. He is Board Certified in Developmental-Behavioral Pediatrics. He is employed with Western Michigan University Homer Stryker M.D. School of Medicine. He earned his MD at the University of Mumbai, LTM Medical College in 1995. He completed his Residency at the University of Illinois at Chicago in Pediatrics in 1999. He went on to complete his Fellowship in Developmental-Behavioral Pediatrics at the University of Maryland-Baltimore in 2002. He has been involved in the clinical care (diagnosis and treatment) of children with these conditions for over 20 years, and has practiced in academic and community settings. He has been primary investigator and co-investigator on numerous funded studies  with funding from federal, private, and international sources. He has over a decade of expertise in telehealth activities (both clinical and research), and has published and presented nationally and internationally on the subject.