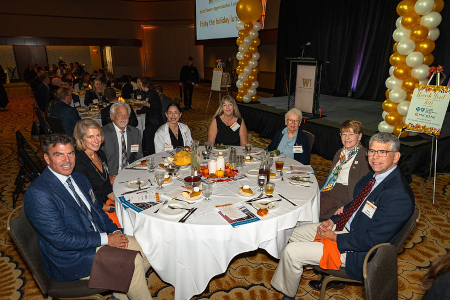 The Office of Development and Alumni Affairs proudly sponsors a broad spectrum of programs and activities aimed at connecting and supporting our faculty, staff, alumni, students, residents, and friends of the medical school. We also supervise and direct the planning and coordination of fundraising events at WMed.  
We invite you to learn more about the events and programs we offer for alumni, donors, faculty, and students and contact us if you'd like to get involved.
Events
Community Tours
The Office of Development and Alumni Affairs will host guided tours of the educational facility on the W.E. Upjohn M.D. Campus to provide friends of WMed and the community with the opportunity to visit. Those who tour will see our Simulation Center where we provide hands-on medical training to our future physicians. We also will open the doors to our beautiful campus for Art Hop activities.  
More details coming soon!
---
Annual Donor Appreciation Luncheon
Each year we invite medical school donors to attend our annual donor luncheon. Our next luncheon will be held on Thursday, November 9, 2023, at the Radisson Plaza Hotel at Kalamazoo Center. This event gives us the honor of recognizing our donors for their gracious support and commitment to the medical school. Students who attend meet donors and some are selected to share how donor support has benefited them directly or a student-led initiative they participate in.  
To view the 2022 Donor Luncheon event, please check out a video of the full event from 2022, or take a look at a video of the highlights.
---
Programs
Body Donation Program
Individuals may choose to donate their body to WMed to be used in the advancement of medical science, teaching, and study.
---
Hosting Opportunities
Are you interested in hosting a fundraiser or an alumni networking event in your area? The Office of Development and Alumni Affairs would be happy to work with you to plan and execute a successful fundraiser or a reception for your fellow alums in the city you reside in.
---
To learn more about supporting our events and programs or to find out how you can get involved, please email giving@wmed.edu.